Visiting Calgary? Make yourself at home with Urban Suites!
Whether it's a quick weekend getaway or a month-long sojourn, Urban Suites have a range of short and long-term fully furnished apartment rental options to choose from. Stylish, affordable, and comfortable, Urban Suites will make you feel right at home.
Centrally located in Downtown, Urban Suites apartments place the best of Calgary right on your doorstep. Close to the C-Train and the Plus 15, all the finest shopping, dining, entertainment, and attractions the city has to offer are just moments away.
Looking for a place to call home on your vacation to Calgary? Speak to our experienced reservations team today for more information on our fully furnished apartment rentals.
Why choose a fully furnished Urban Suites serviced apartment over a hotel?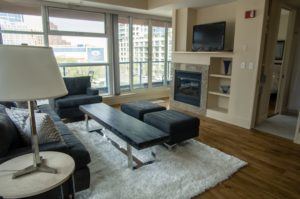 When you're on vacation it's all about location, and Urban Suites apartments will place you right in the heart of Downtown. Calgary's best restaurants, shopping, nightlife, attractions, and entertainment are just outside your door, and the C-Train and Plus 15 Skyway network are only steps away.
While renting a whole apartment may sound expensive, Urban Suites offer affordable apartments that actually end up costing less than a standard hotel room in Downtown Calgary.
Not only are Urban Suites more cost-effective than hotels, they also offer all the freedom, privacy, and comfort of home-style living, but with the added bonus of hotel luxuries, such as free wifi, linen services, and regular cleaning.
Urban Suites apartments are set up to feel just like your very own home. Our apartments are fully furnished and fully equipped with all the modern amenities you need. You can save money on dining out and cook up a storm in your very own full-sized kitchen, as well as enjoy fresh, clean clothes anytime you like with the convenience of your own private in-suite laundry facilities.
If you're travelling as a family or in a group, Urban Suites offer apartments with generous floor space, multiple bedrooms, and separate living areas, so everyone can enjoy their own private space to unwind at the end of the day.
Want to enjoy all the comforts of home on your next visit to Calgary? Check out our range of beautifully appointed, fully furnished Downtown apartments.