Posted on: Tuesday, December 18th, 2018
Traveling for business doesn't have to be hard work. With the right pre-trip prep, you'll be able to save money, time, and your precious sanity – and you might even end up enjoying your time away! Turn your corporate stay into a carefree getaway with these top tips for a smooth business trip.
Business Travel Tip #1: Pack Like a Pro

When you're heading out on a business trip, you need to pack light and pack smart. Packing like a pro means planning out exactly what you'll need ahead of time. Pick your outfits for each day you're away and try to choose pieces that you can get double-wear out of so you pack less. Create your little travel kit with the essentials you'll need for everyday life and emergencies, such as spare phone chargers, power adapters (especially necessary for international travelers), headphones, a toothbrush and toothpaste, a razor, Tylenol, and band-aids. Keep this little wonder-kit in your suitcase permanently so you can rest assured you'll never forget the important stuff.
Business Travel Tip #2: Carry-on Only

If you take heed of the above pointers, you should find yourself packing only the bare necessities for your trip. Fortunately, the bare essentials almost always fit into a neat carry-on sized bag! Not only does taking just carry-on luggage to save you from expensive baggage fees, but you'll also avoid wasting time checking in luggage, waiting for its arrival at the carousel, or worrying about late or lost items. Be sure to invest in a carry-on bag with wheels, because lugging a duffel bag or backpack from one side of the airport to the other is never a good time.
Business Travel Tip #3: Stay Charged

In a world where we're always connected via our laptops, tablets, and smartphones, an external battery pack should be your new best friend on business trips. When you're working on the road or trying to prepare for important meetings ahead in your new destination, you don't want to be caught short with your laptop or tablet battery dying mid-flight.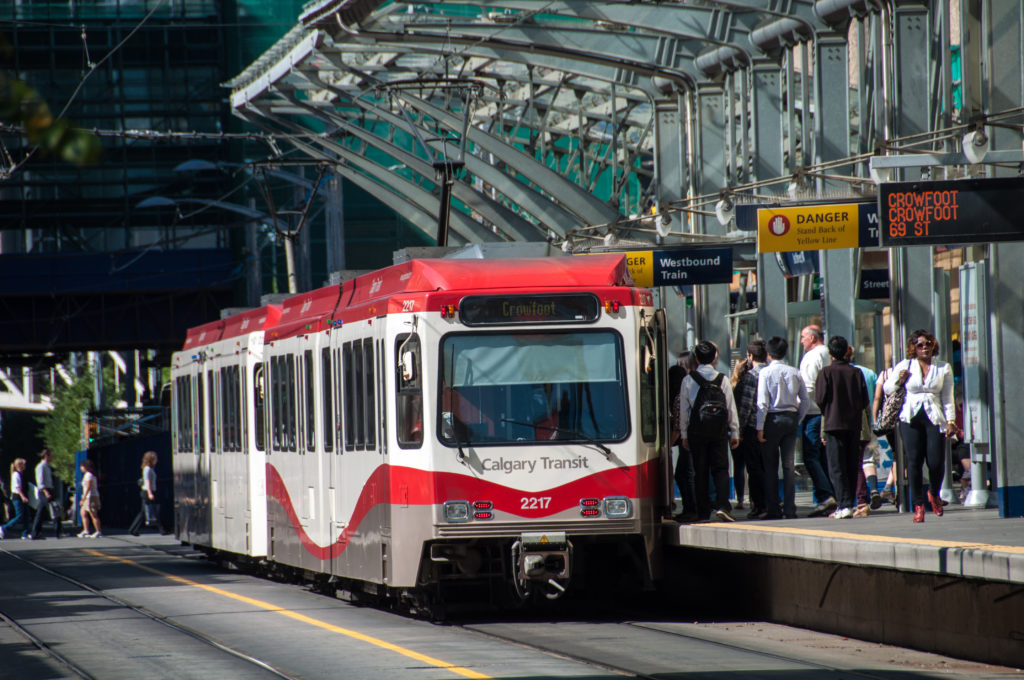 Business Travel Tip #4: Save Money, Use Public Transport

Calgary International Airport is located just 20 minutes from Downtown, and if you don't want to splurge on a taxi, there are plenty of inexpensive and convenient options to get you where you need to go. Calgary is home to an extremely efficient and easy-to-use public transit system, which includes the C-Train. From the airport, catch the Calgary Transit Bus 100 to the McKnight-Westwinds train station, and jump on a train heading into Downtown. Once Downtown, the C-Train offers a 'fare-free zone,' so you can travel for free between the 10th Street and City Hall Stations.
Business Travel Tip #5: Choose Your Accommodation Wisely

When selecting accommodation for your corporate stay, you want to choose a location that's both convenient to where you'll be conducting most of your meetings or conferences, but also close enough to Downtown so you can enjoy your downtime. Urban Suites offer a range of beautiful and affordable short and long-term rental apartments (link to executive suites page] right in the heart of Downtown Calgary, ideally located to mix business and pleasure.
Business Travel Tip #6. Take the Plus15

Thanks to Calgary's iconic Plus15 pedestrian system, getting around Downtown has never been easier. Standing 15 feet above street level, this climate-controlled network of walkways links businesses, shopping districts, and parking lots within the city. The Plus15 provides a handy escape from city traffic, as well as a much-needed refuge from the blustery cold temperatures during the winter months. Find out more about getting around Calgary and the Plus15 here.
Business Travel Tip #7: Soak up the local scene

Traveling to Calgary on business certainly doesn't need to be all work and no play. Even if you're short on time, all it takes is a little bit of research before you go and you'll be able to see much more of Calgary than the inside of meeting and conference rooms. Downtown Calgary boasts a bounty of great bars and restaurants, museums, art galleries, and retail options – all within walking distance. You can even add a little Calgary culture to your lunch break and check out the Lunchbox Theatre, where you can order and eat your lunch in the theatre while taking in a one-act play.
Business Travel Tip #8: Turn your Business Trip Into a Mini-Vacation

Business and pleasure come together quite quickly in Calgary. Try to plan your business trip on a Thursday or Friday and stay the weekend so you can enjoy all the best the region has to offer. Often called the 'Gateway to the Canadian Rockies,' Calgary is also only a short yet scenic drive to the stunning Banff National Park, which is considered to be one of the most beautiful places in the world. Banff is close enough to take a day trip from Calgary, and a visit there will undoubtedly turn your ordinary corporate stay into an extraordinary one.
Business Travel Tip #9: Take Care of Yourself

Life on the road can leave you feeling sluggish, but it's important to make time to exercise. A workout may be the last thing on your mind when you're already feeling drained, but even a quick 30 minutes will have you feeling refreshed and energized with a healthy boost of good endorphins. Fortunately, Calgary is home to the most extensive network of walkways and bikeways in North America, which all conveniently weave throughout Downtown – so there's no excuse not to hit the pavement and get your heart pumping. Whether you want to work up a sweat on a quick run or get some fresh air, Calgary's scenic pathways will provide an unbeatable backdrop.
Business Travel Tip #10: Get a Nexus

If you find yourself traveling in and out of the US for business often, do yourself a huge favour and get a Nexus Card. At just $50 for a five-year membership, this little beauty allows you to skip the lines and breeze through separate security screening dedicated to Nexus carriers.
Traveling to Calgary for business? Discover your home away from home with Urban Suites. Let us help you find a stylish and comfortable executive suite to suit your next corporate trip – contact us today.